The Facts about Forced Electrification in New York State
New York is making significant strides to reduce carbon emissions. Keep My Energy Choice is committed to making sure that all viable renewable energy options are a part of the conversation. The push toward electrification limits access to renewable energy options, like Bioheat® fuel and biodiesel, that can be used to achieve the same goals with greater benefits to consumers, businesses, and the community at large.
---
What's Happening with Forced Electrification in NY Now
New York plans to reduce greenhouse gas emissions by 40% by 2030 and by 85% in 2050
The Climate Act includes plans to 70% of electricity from renewable resources by 2030 and 100% by 2040
Carbon taxation is being considered for the distribution and sale of all fossil fuels for heating and transportation use.
What It Means If You Live in NY
If you have a fossil fuel heating system, you will be strongly encouraged to convert to electric heat pumps
You will pay for expensive conversions for equipment that is unreliable in extremely cold weather
You may be encouraged to replace your vehicle with an electric vehicle. And if not, you will pay for electric vehicle infrastructure, whether you drive an EV or not.
---
Forced Electrification Can't Be the Only Solution for a Renewable Future in NY
Electrification is expensive.
On average, the installation of an electric heat pump costs up to $20,000.
Electrification can't hold up to demand.
The current electric grid cannot support increased demand.
Electrification isn't 100% clean energy.
No energy source is 100% clean and ost electricity production  in NY comes from greenhouse gas–producing natural gas.
Electrification takes away from small businesses.
Switching to electric heat would mean losing service from the local heating companies and their employees from your community.
What Can I Do?
Sign the Petition to Keep Your Energy Choice
Project Carbon Freedom is working to advance clean energy legislation with renewable liquid heating fuels as an alternative to electrification. Sign the petition to show your local policymakers that you want to keep your renewable energy choice.
---
More Resources about Forced Electrification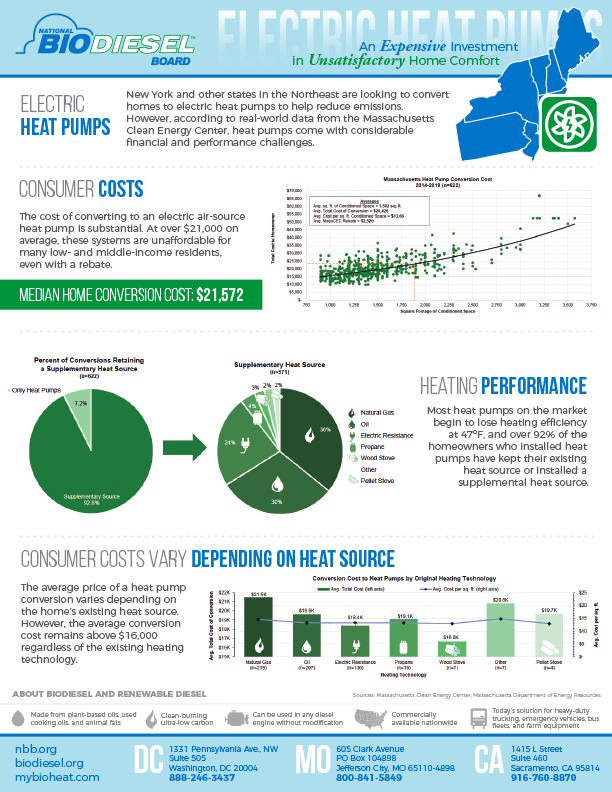 Source: The National Biodiesel Board
VIEW OTHER IMPORTANT RESOURCES
---
Bioheat® fuel and biodiesel are better renewable energy options that are ready and available in New York now.